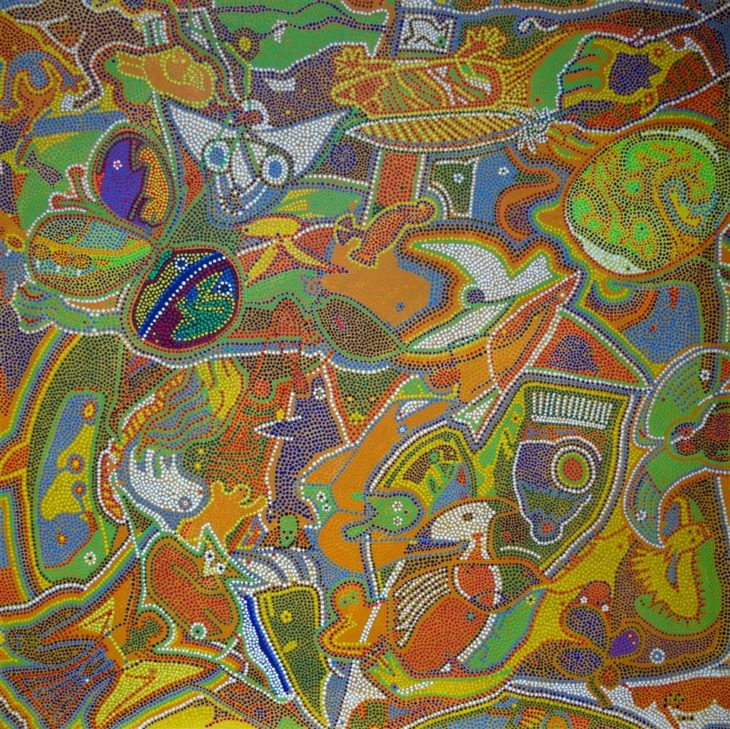 The absolute most creative craftsmen working outside the photo place will meet up this April at Agora Gallery
The absolute most creative craftsmen working outside the photo place will meet up this April at Agora Gallery
GIDJA Creates Abstract Paintings Inspired by Spirituality and Nature
NY – Chelsea's Agora Gallery will include the first work of GIDJA in Spatial Fluidity. The presentation opens April 1, 2017 and goes through April 21, 2017 with an opening gathering on Thursday, April 6 from 6-8 pm.
Theoretical painter GIDJA is known for both his delicate, immersed watercolors and exact, beautiful dab artworks. While these two painting styles may appear contrary to each other, they are associated through GIDJA's essential wellsprings of motivation: nature and deep sense of being. Regardless of whether he's working with watercolors or meticulously making specked examples with a plume or twig, GIDJA approaches painting as a demonstration of contemplation, giving the paint and hues a chance to guide him.
He makes without an arrangement, working on immaculate impulse and feeling. While his watercolors are normally immaculate reflection, his dab artistic creations have a more account sensibility, and are populated with creatures, individuals, images, spirits, and questions. GIDJA favors the dab painting method due to its associations with indigenous societies, which he appreciates for their comprehension of most profound sense of being and environment. It's a basic procedure however one that requires an extraordinary measure of persistence.
GIDJA was conceived and presently lives in Belgium, where's he's a rehearsing osteopath. From multiple points of view, his expert life reflects his creative work on: understanding associations and moving individuals to see things recently.
Display Dates: April 1, 2017 – April 21, 2017
Gathering: Thursday, April 6, 6:00pm – 8:00pm
Display Hours: Tues-Sat 11:00am – 6:00pm
Display Location: 530 West 25th St, Chelsea, New York
Occasion URL: http://www.agora-gallery.com/artistpage/GIDJA.aspx
Sheree Friedman | Erin Cooke | Pedro Alberti | Nello Petrucci | Isabelita | Annika Carlsson | GIDJA | Ian A. Matthews & Birsen Yurdaer
Interacting With Art:Spatial Fluidity
The absolute most creative craftsmen working outside the photo place will meet up this April at Agora Gallery in Spatial Fluidity, another aggregate presentation. A festival of three-dimensionality in every one of its structures, Spatial Fluidity examines how a bit of craftsmanship ought to exist on the planet. Is it simply a visual substance? Does it enter the watcher's space? Is it static or does it change as the watcher moves?
The display incorporates nine specialists. There is an extensive variety of blended media work, extending from pieces that are inconspicuously finished to canvases that commandingly jut and subside into purported "genuine" space. There are arrangements that blend news sections and photos, or resist desires by covering everything in an intelligent coating. There are additionally single-media artworks that accentuate the physical parts of their material, for example, the plastic nature of acrylic. A significant part of the workmanship is abstract Computer Technology Articles, so that the watcher may concentrate on more extensive visual sensations as opposed to assemble three-dimensionality with a representational account.
Edited By articlesworldbank.com